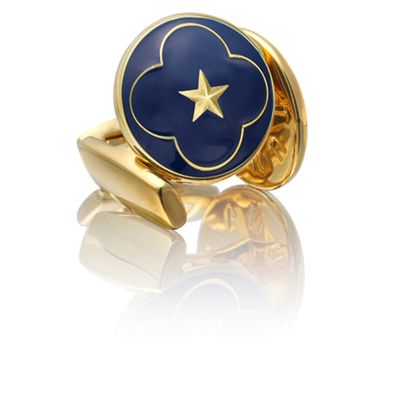 The Official Wedding Series Cufflinks
Skultuna
$150.00
Out of stock
The Official Wedding Series Cufflinks for the Royal Wedding of Swedish HRH Crown Princess Victoria and Prince Daniel in 2010. The motive is The Polar star, an ancient symbol of the northerly Kingdom of Sweden. Part of the revenue is donated to the Crown Princess Couple's Wedding Foundation, which aims to prevent social isolation and promote good health among children and youth in Sweden. Gold plated brass.
Color: Royal Blue



Dimensions: Ø17mm



Skultuna was founded in the year 1607 by King Karl IX of Sweden as a brass foundry. Today Skultuna is one of the oldest companies in the world and it is still a purveyor to the Royal Court of Sweden. For over 400 years Skultuna has produced fine metal objects of the highest quality for both everyday use and for special occasions. Always with that same sense of everlasting quality and design.



Today Skultuna products can be found at leading department stores all around the world. Skultuna has won a number of international design awards and regularly exhibits at the leading international design fairs such as Salone Mobile in Milan, Maison & Objet in Paris and the Stockholm Furniture Fair.
SKU: 2019